For decades, the Exide lead acid battery recycling plant allegedly operated in the working-class City of Vernon under an expired permit issued by the California Department of Toxic Substances Control (DTSC).  Exide was alleged to have committed more than 100 violations of environmental laws by releasing pollutants into the air, soil, and water.  When the plant finally closed in March 2015, the scope of the contamination throughout the community was not yet clear.
As the scope of the Exide facility's contamination became clearer, the County mobilized to push regulators and the State to fund what has become the largest environmental cleanup in California history.  Regulators have estimated that pollution from the former Exide facility had impacted at least 10,000 residential properties and 100,000 County residents.
Working closely with County DPH, Supervisor Solis' office, and other County departments, the County Counsel team successfully worked with the area's State legislators to allocate hundreds of millions of dollars in the State budget for cleanup of the former Exide facility and almost 6,000 residential properties in the surrounding communities. Additionally, County Counsel obtained $5.2 million for lead paint hazard abatement near Exide from the SoCalGas settlement. County Counsel leads the County team in monitoring the State cleanup and continuing to advocate for additional cleanup funding.
During the Trump Administration, Exide negotiated a bankruptcy court settlement that falls hundreds of millions of dollars short of the total estimated cleanup costs. County Counsel worked to provide comments opposing the bankruptcy settlement because it failed to allocate sufficient funds to clean up the Exide facility.  Unfortunately, the Trump Administration's Environmental Protection Agency and Department of Justice supported the settlement and, consequently, the bankruptcy judge approved it.  The County alleges that the bankruptcy court settlement failed to provide sufficient funds to demolish all of the buildings on the  Exide facility site, to clean up residential properties in the communities surrounding the facility, or to address any potential soil or groundwater impacts of Exide's operations.  County Counsel is coordinating the County Exide Team's efforts to have the Exide site designated as a Superfund site in order to provide federal funds for cleanup of the Exide facility and surrounding communities.  
*Exide has not admitted allegations asserted by the County or State regulators.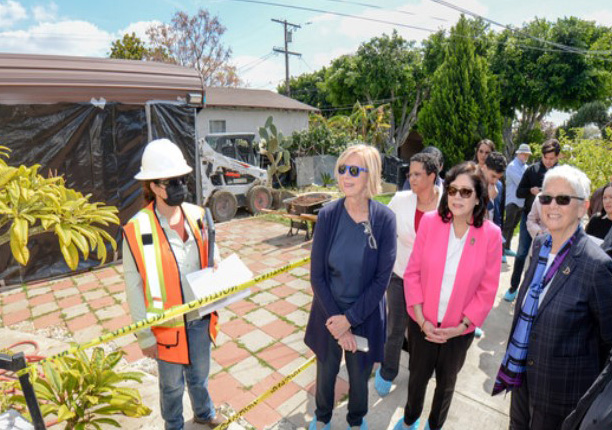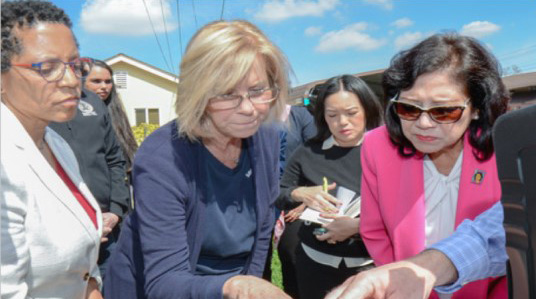 Supervisors Hahn and Solis tour Exide residential cleanup sites with State officials
Photos from Supervisor Hahn March 8, 2023 press release and available on her website